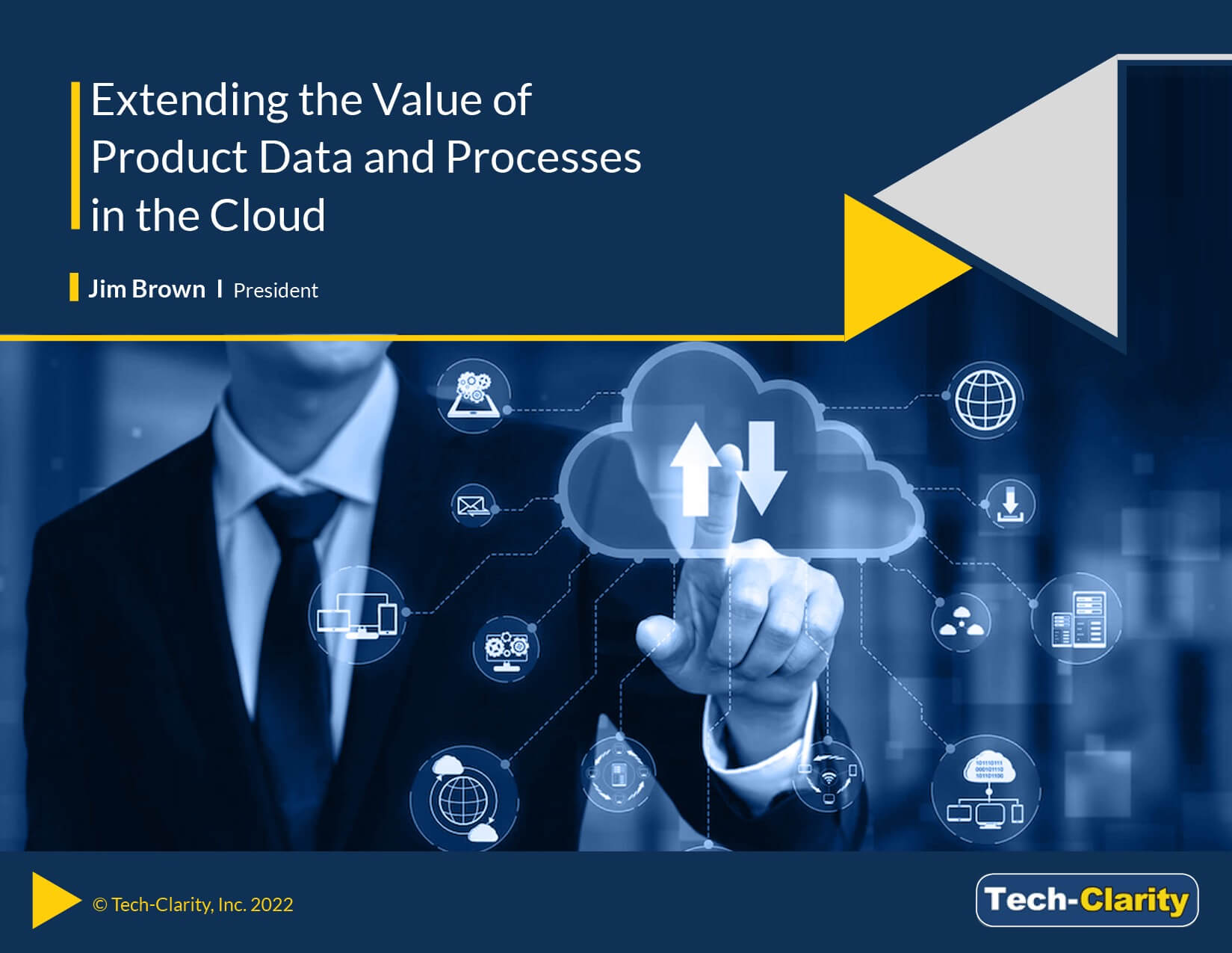 Manufacturers continue to move product data and product-related processes to the cloud. What's driving them? What value are they looking for, and what are they achieving? We surveyed 270 companies that design, engineer, or manufacture products to find out. 
Please enjoy the summary* below. For the full research, please visit our sponsor Autodesk (registration required).
Table of Contents
Multi-faceted Cloud Benefits
Achieving Significant Benefits
How Does the Cloud Impact Performance
Digitalize Data and Processes
Expand Cloud Data and Processes
Increase Product Data Management Maturity
Integrate Cloud Data and Processes on a Platform
Taking the Next Steps
About the Research
Acknowledgments
Extending the Value in the Cloud
Top Performers Leverage the Cloud for Product Data and Processes
The survey shows companies are going beyond primary cloud benefits to improve system cost, deployment, and operations. Although these benefits are valuable, manufacturers need more. They are looking for ways to change how they work. Over three-quarters of respondents say that the cloud is important or critical to driving digital transformation. Top Performers, those that report better product design and development performance, are even more strategic about their cloud adoption. This eBook shares how Top Performers extend cloud use for product-related data and processes and offers recommendations for manufacturers to get the most out of their cloud strategy.
Achieving Significant Benefits
Companies are Gaining Value
Manufacturers are achieving multifaceted benefits. Respondents shared the operational and business benefits their company receives from having product-related data and processes in the cloud. These are in addition to IT and general advantages of the cloud span solution categories and are relatively well known. 
Moving product data and processes offers some unique benefits, as well. For example, high-performance computing (HPC) is the most common benefit. HPC can allow companies the flexibility to perform resource-intensive processes without investing in high-end workstations or enable engineers to work from home. In addition, flexible, scalable compute power makes high-value tools easily accessible to infrequent users or new teams without the need to add additional resources like RAM or GPUs.
The Cloud Makes Work Easier and More Flexible
The next most common benefits are those that make work easier. Moving product-related data and processes to the cloud allows remote and flexible work, supports business agility, allows easier access to data, and enhances collaboration. These are very valuable for today's distributed product design and development teams. They are also important as companies have adapted to changing markets and ways of working to cope with recent global disruptions like the pandemic. Additional benefits include enhanced talent acquisition and retention, greater supply chain connectivity, better data and knowledge retention, and continuous process improvement.
Taking the Next Steps
Take Advantage of Cloud Benefits
Manufacturers target the cloud for digital transformation and achieve a broad array of benefits. The benefits of the cloud are proven and achievable. Take advantage of the cloud for product data and product related processes to achieve measurable benefits in the following areas:
Operational benefits

IT / implementation benefits

Business / strategic benefits 
Follow the Leaders
Moving product data and processes to the cloud is no longer on the cutting edge. Instead, it has become the new norm. Companies that aren't taking action, barring specific regulations or circumstances preventing them, are likely missing an opportunity and falling behind those that do. The companies that went first have paved the way for others and helped software vendors mature their offerings. Of those, those that are better hitting their product development targets are further along in their digital transformation. Based on the research and experience of the Top Performers, we recommend:
Fully digitally transform product data and processes making it easier to share, reuse, and collaborate with others across the enterprise and the value chain

Have more fully integrated data and processes in the cloud, providing a complete digital thread and a single version of the truth and coordinated actions that helps accelerate product development, encourage reuse, and drive higher quality

Adopt more mature, best practice approaches to product data and processes in the cloud including 

Deploy more integrated cloud solutions or a platform to achieve greater product design and development performance
*This summary is an abbreviated version of the research and does not contain the full content. For the full research, please visit our sponsor Autodesk (registration required).
If you have difficulty obtaining a copy of the report, please contact us.