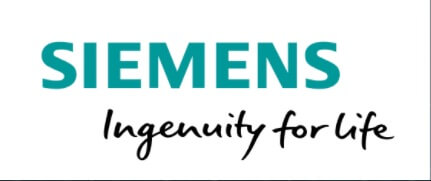 What has Siemens PLM been doing over the past couple of years to deliver on their product innovation, product development, engineering, and production software platform strategy? This post expands on our recent post sharing our high level perspectives on Siemens PLM Strategy. It provides more detail on recent history and their new strategy to focus on digital transformation and digital innovation with their Digital Innovation Platform.
This post is part of our series on the Strategy of the Major PLM Vendors. Please see the overview post for our top-level thoughts and a list of other detailed topics like this one.
The Big News – Focusing on Digital Transformation and Digital Innovation
The biggest change we see in Siemens' strategy is their desire to play a major role in helping companies digitalize. They've already invested heavily in digitalizing design with NX and Teamcenter and Siemens clearly understands and sees opportunity in the broader transition to the digital enterprise. Digitalization is an important trend in the industrial sectors and Siemens is right in the middle of it. And it's important to note that the focus on digitalization goes well beyond Siemens PLM across all Siemens divisions. According to Siemens, they plan to focus on three main areas:
Changing the way products are realized
Changing the way products evolve
In other words, their scope includes the full design, production, and the service lifecycle.
Siemens if focusing on the "digital thread of innovation" and believes it requires a lifecycle perspective that fits in well with their solutions, including:
Systems simulation
Multi-domain modeling
Multi-physics simulation
Test and validation (unique, physical test capabilities)
Digital manufacturing, closed loop validation
Performance intelligence (take the info we learned, the insight we and do something with it)
Clearly Siemens has a broad scope and covers a lot of bases. The lifecycle perspective is covered as well because this will all be managed in the digital enterprise with Teamcenter as the backbone.
We believe that digitalization will result in major changes to the competitive landscape in manufacturing, and Siemens is very well positioned to help companies enable their digital transformation.
Catching up on History – 2016-2017
Let's step back and discuss some of the more important changes since our last update. Clearly one of the most significant changes is the CEO transition from Chuck Grindstaff to Tony Hemmelgarn. The two leaders are very different, with Tony having a more sales and marketing orientation that will likely prove to be a good shift for Siemens PLM. But from everything we've seen Tony plans to continue with the same strategy. Just as importantly, if not more, their core tenants of serving customers and embracing openness have not changed. This is good news for Siemens' customers.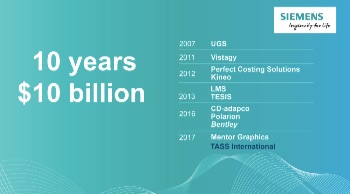 Siemens has stayed busy with mergers and acquisitions. They've continued to invest heavily in the PLM market, and now claim to have made $10 Billion in acquisitions over 10 years. They will continue to invest, although as Tony mentioned "I don't see us doing another $4 billion acquisition, but there are still things we need and we will do smaller ones." Perhaps we should start with that $4 Billion acquisition, that's clearly a big move. Siemens acquired one of the major Electronics Design Automation (EDA) vendors, Mentor Graphics. This brings EDA and a very broad set of capabilities for electrical engineering into their solution suite. More on that later…
There are other significant additions as well, including:
Beyond acquisitions it's important to note that:
They're investing in consolidating and integrating their solutions, for example they announced Simcenter, a portfolio of simulation solutions that consolidates multiple simulation acquisitions and technologies into a rationalized suite of offerings to carry into the future and providing better integration between simulation and physical testing
They continue to invest their significant development resources in developing new capabilities and create a more integrated offering
They've invested in their Advantage Program to help companies get value quickly, including the development of best practices delivered as "Catalysts" that can include documented process flows, documented industry solutions, or complete solutions on top of Active Workspace
To see further back into Siemens PLM history, please see our Siemens PLM Strategy Update 2015+ post.
Parting Thoughts 
As you can see from these two topics, Siemens has invested a lot in their strategy to help manufacturers better serve their customers and gain advantages of their competitors through digital transformation.
Our next sections will cover the Digital Innovation Platform and PLM.