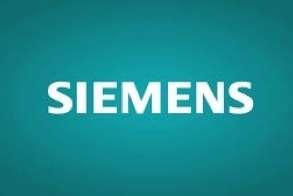 In addition to being a major industrial manufacturer in their own right, Siemens PLM has a rich history in the engineering software industry. Today, they continue to drive their PLM agenda forward while taking greater advantage of the synergies available from being a part of a global manufacturer with offerings including manufacturing automation equipment, manufacturing operations management (MOM) software, and Product Lifecycle Management (PLM) software. This article shares my views on Siemens PLM's strategy and direction as a part of our PLM Strategies of the Major PLM Vendors series.
Please see our updated views here
An Update on History
Siemens has been busy delivering on their promises. I have to be a bit careful because I inadvertently upset Siemens PLM Software President Chuck Grindstaff by paraphrasing a tweet exchange about his keynote at an analyst-only event last month. The tweet indicated that one participant had seen nothing "radically new," to which I replied "Few surprises, delivering on promises, investing in products and integration. Typical Siemens PLM." Of course I meant it as a compliment! And I'm pretty sure the other analyst did, too. What I meant was exactly what I wrote in my Siemens PLM Vision 2014+ post when I said that customers should "expect steady progress with more of the same." I predicted that Siemens PLM would be "Adding new capabilities to existing solutions, expanding the footprint with solutions that are close to the core of PLM, and continuing the path towards a more integrated innovation-production continuum that takes 'digital manufacturing' to a new level." Unfortunately, I may have used the word "boring" in my discussion with Chuck about the twitter exchange as a way to say how predictable and steady Siemens PLM is at delivering on their strategy. I struck a nerve. After all, he just reviewed some pretty cool announcements that were anything but boring. But my point stands, even if my words were poorly chosen.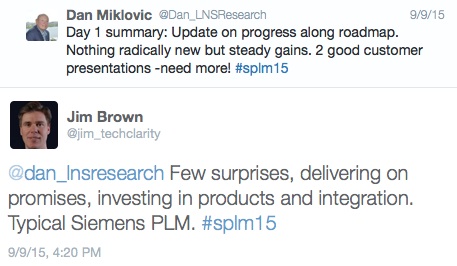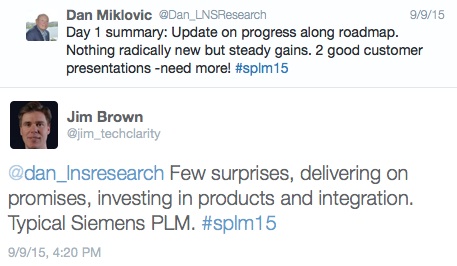 So what's happened since last year? Chuck explained that mobility, cloud, and data analytics are transforming how products are developed and produced and shared some cool examples of how they're helping customers realize the potential of these technologies. Here are a few of the new things Chuck shared:
Catchbook – This is an exciting new application intended to quickly capture and share ideas, and bringing dimensionally accurate sketching capabilities to mobile devices. Designed for tablets and phones, it's a touch-screen application that leverages some pretty cool technology to interpret what the user is trying to sketch (like a circle, for example) and creates accurate shapes. It also takes advantage of native capabilities on mobile devices and allows you to "catch" additional information – like a photo – and include it in your sketch. It's available "all in" for $9 on a variety of devices. What impressed me – and you will hear more about this theme in this post – is that fact that it wasn't done as a standalone. Catchbook can share to Teamcenter and NX can pick up the geometry and take it to the next step. This isn't a proof of concept or a one-off, it's something that complements what Siemens already does and fits in with their existing applications. Here's a cool video introduction of Catchbook from Siemens that gives you an idea of what it does.
Omneo – Siemens PLM introduced some really exciting big data analytics capabilities that give them significant new ways to help customers take advantage of the Industrial Internet and IoT. Omneo helps companies analyze large volumes of structured and unstructured data to make sense of it, identify patterns or trends, and discover meaningful relationships between the data. Omneo was a nice bonus from the CAMstar acquisition. Siemens acquired Camstar in 2014 and announced Omneo Performance Analytics as a cloud service in 2015.
Siemens PLM shared some other exciting news about Cloud Services and a huge variety of product updates. I won't have time to get to them is this post, but I'll try to touch on some and put them in the context of how the strategy is being realized.
That should bring us up to date, let's get into it!
The Siemens PLM Strategy
Chuck Grindstaff explained that Siemens PLM is supporting "Smart Innovation" with what they're now calling their "Smart Innovation Portfolio." Chuck made it clear that the portfolio not only supports the design side of innovation, it includes Ideation, Realization, and Utilization. Clearly, Siemens PLM continues to focus broadly on the product lifecycle. He also reiterated their intention to continue to help manufacturers improve Systems-Driven Product Development, which was a key focus area from last year that continues on. Chuck also explained how Digitalization, an overarching theme shared by Siemens Chief Strategy Officer Dr. Horst Keyser, supports Smart Innovation. In specific, that Digitalization is the "strategy for realizing smart innovation" and that it "weaves a digital thread through the entire value creation chain." I expect that we'll continue to hear more about Digitalization as time goes on.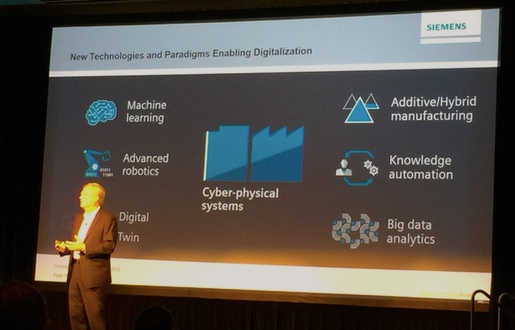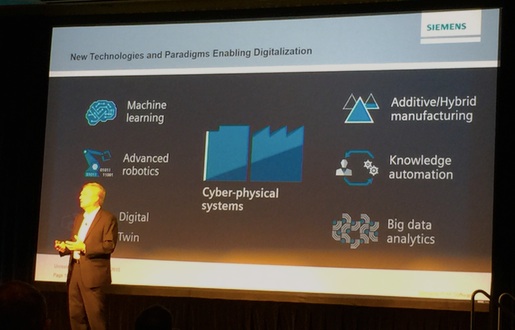 The most telling statement I heard about the Siemens PLM strategy was from Chuck himself, saying they will "stay singularly focused on connecting the dots between innovation, realization, and utilization." When I said to expect steady progress and more of the same, this is exactly what I meant. Siemens PLM isn't full of surprises. They say what they're going to do – and then they do it. Siemens PLM doesn't shock you, they execute and deliver along a stable, consistent strategy. For anyone that thinks that's a bad thing for a software company, we should talk. Siemens makes it clear what they're doing so their customers are on board and know what to expect.
Some of the strategic areas discussed below fall into the category of delivering on what's been promised:
Extending Integration Across the Suite
Providing Industry-Specific Solutions (Accelerators)
Investing in Architecture (including Cloud)
Continued Investment in Helping Customers Gain Value
Others strategic initiatives fall into the category of providing new capabilities that are "close to the core" of what they've offered to date. Siemens has been investing in Big Data, IoT, and new manufacturing realities like advanced materials and supporting additive manufacturing. The way they're approaching each of these is exactly what I would expect from Siemens. They're not chasing something shiny and new, they're finding ways to support existing customers as the business of manufacturing changes and extending their offerings as new technology makes new business value available. Some of these items include:
Big Data / IoT
New Manufacturing Materials and Methods
Extending Integration
Siemens has arguably the broadest vision for an integrated manufacturing solution suite. They cover product innovation and engineering with their PLM solutions, manufacturing execution with Simatic IT MES/MOM, and production automation with their Automation and Drives business. The breadth of the suite, however, is not the truly distinguishing characteristic. I think the best way to describe it is with a comment by Tony Hemmelgarn at the analyst event when he said "The easy things have been done. Our strength is the integration of our solution set." This is true for their PLM suite but also becoming true for the overall innovation suite. For example, Siemens continues to expand MES-PLM integration. They have already created a common model for PLM and MES, and continue to share examples of the way a fully integrated solution works at their highly automated Amberg plant. I'm also hearing more about integration of ALM-PLM since the Siemens investment in Polarion in 2014, specifically in the area of requirements traceability and embedded software management to support systems-driven product development. I'll touch more on integration, including the integration of CAD and Simulation, in the "Customer Value" section.
With this solution set, Siemens PLM offers strong capabilities to manage the connection between digital products and real ones, what's known as the "digital twin." Unlike some other definitions, Siemens PLM views the digital twin representing more than just the product itself. It also includes production processes, equipment, and facilities. Siemens PLM view of the "Product" in "Product Lifecycle Management" is broad. For example, they demonstrated designing new production line designs in the context of existing infrastructure using point clouds derived from laser scans of the actual facility (thank to a partnership with Bentley Systems).
Integration across the suite includes the use of "intelligent product models" that include everything about a product including how to produce it. Using these models and the tie between PLM, MES, and Automation they can provide the opportunity to compare actual performance with as-designed specifications to improve simulation and better predict performance in the future. Intelligent models and the "model-driven enterprise" are major themes that will be central parts of the integration.
Despite the investment in integration within their suite, we believe Siemens will remain open in their integration approach to reflect the reality of the engineering software market and respect their commitment to customers to be interoperable.
Industry-Specific Solutions
I didn't mention industry specialization in my 2014 strategy post, but as one commenter rightly pointed out it was already happening. Siemens PLM has been developing "Industry Catalysts" to help provide industry-specific capabilities to help better serve customers. This is based on a recognition in the industry that although 80% of the things companies need in PLM are the same across industries, some of the differences in the remaining 20% are a significant source of value. They also make implementation and adoption easier.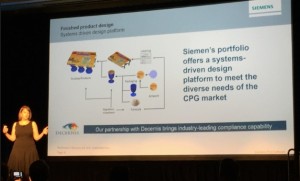 The addition of the Accelerators, which are service-based offerings, complements a change to an industry-centric versus product-centric go to market strategy. Siemens has dedicated resources and solutions for major industries including A&D, Automotive, Consumer Products, Electronics / Semiconductor, Machinery, and more. Of particular note are the Energy and Utilities Accelerator which is a joint solution between Siemens and Accenture and the Medical Device Accelerator which is a joint solution with Sogeti.
One particular industry to watch is Consumer Packaged Goods (CPG). CPG has been an emerging market for PLM and is ready for the benefits of Digitalization. Siemens has had a collection of software for CPG including LIMS and Spec Management in Simatic IT. I've been watching this opportunity for years to see if and when Siemens will take advantage of the potential synergy created when Siemens originally acquired UGS. To date, this hasn't happened, but there's a new industry leader in town. Siemens brought CPG veteran and P&G alumnus Suzanne Kopcha on board. She was a senior R&D leader at P&G and knows PLM well. Perhaps Kopcha is the catalyst to make this happen and provide a fully integrated PLM solution for CPG? My hopes are high.
Investment in Customer Value
One of the things that consistently strikes me as I attend Siemens PLM events is their focus on customer success. I'm sure I'm repeating myself from past posts, this is a recurring theme with Siemens. I'll share a few examples to illustrate my point.
First, let's talk about user interfaces. Nobody likes to talk about user interfaces, particularly in PLM. But Siemens PLM has actively invested in Active Workspace across their platform. It started with Teamcenter, but it's now becoming pervasive across the PLM suite. In fact, the lines are starting to blur between the individual applications. They've even adopted Active Workspace for Manufacturing, which is the same user interface concept implemented in MES. The result is that the suite is starting to look more like a single, seamless solution. Lines are blurring within the applications as well, we saw robotic simulation and Tecnomatix Line Designer in NX.
There are numerous product enhancements that promise to make users' lives simpler. A couple of notable ones that should provide significant value are Supplier Data Exchange in Teamcenter to help share information more easily with a variety of partners and Integrated Materials Management. These are ways that Siemens PLM is making user adoption and value more achievable. Another initiative, Teamcenter Rapid Start, is an example of how they're simplifying the implementation of PLM for small to midsized manufacturers. And no discussion of Siemens would be complete without a mention of their continued dedication to open solutions, a commitment to customers that they continue to live up to.
Architecture Initiatives
Siemens invests in what they call "future proofing" application investments. Their goal is to make sure that customers can easily move to take advantage of new capabilities as they become available without giving up the applications they rely on. They have done this while moving customers over to their "Unified" platform, and now report that over 80% of customers are now on Teamcenter Unified Architecture. They have also take a unique approach to Teamcenter, providing a base platform and creating applications that run on both the current and prior releases. This allows customers to take advantage of new functionality earlier and eliminates the "forced march" of upgrades.
The Cloud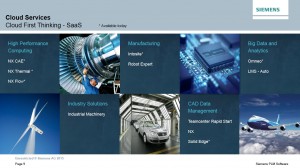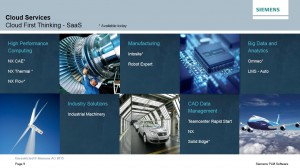 Siemens PLM is not shifting rapidly to the cloud. Instead, they are supporting their customers as they explore the opportunity. They have certainly invested in developing new solutions on the cloud, but haven't shifted the entire solution set to the cloud. Instead, they now offer "Cloud Ready Business Solutions." What does that mean? It means that the solutions can run on the cloud in a hosted environment for those that want to eliminate the need to manage computing infrastructure and adopt an IaaS (Infrastructure as a Service) approach.
They also announced Software as a Service (SaaS) solutions and plans. They include simulation on the cloud to leverage high performance computing, Solid Edge CAD on the cloud, and cloud-native applications Omneo and Intosite. These applications take advantage of the unique capabilities of the cloud. See the slide presented by Steve Bashada for future applications, it should be interesting. I expect we'll see more over time. Siemens has a sort of "center of excellence" in place and they're setting the stage to transition as the market is ready. Siemens PLM isn't betting the farm on cloud today, but they're certainly not ignoring the potential.
Big Data Analytics
Perhaps one of the most exciting updates was about Omneo. It is, perhaps, one of the best ways for Siemens PLM to help their customers unlock value. They already offered Business Intelligence (BI) and reporting, but those didn't address the potential value of analyzing big data. Omneo is intended to provide "a unified data platform for disparate information." This is an incredibly important thing given the amount of data that's currently available from multiple data sources. With the increase in product sensor data from IoT, this will become even more important (and valuable).
On top of the data are Product Lifecycle Analytics. This is where the value comes in. The analytics allow companies to discover insights from data relationships. These data relationships are often hard to identify and sometimes counterintuitive. Big data analytics is a booming market, and the ability for Siemens to offer them to their customers is a big plus. In addition, they can add additional value by combining big data analytics with intelligent product models to gain insights based on differences between as-designed and as-performing parameters. The potential value is large, as a great case study from Dell on their use of Omneo pointed out, including finding answers to questions you didn't know to ask by finding correlations that aren't obvious.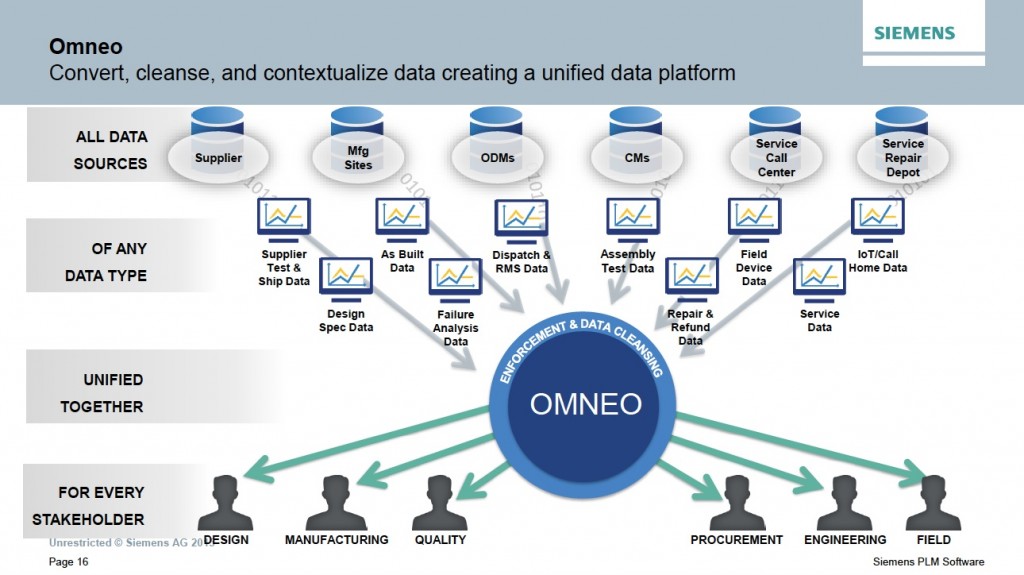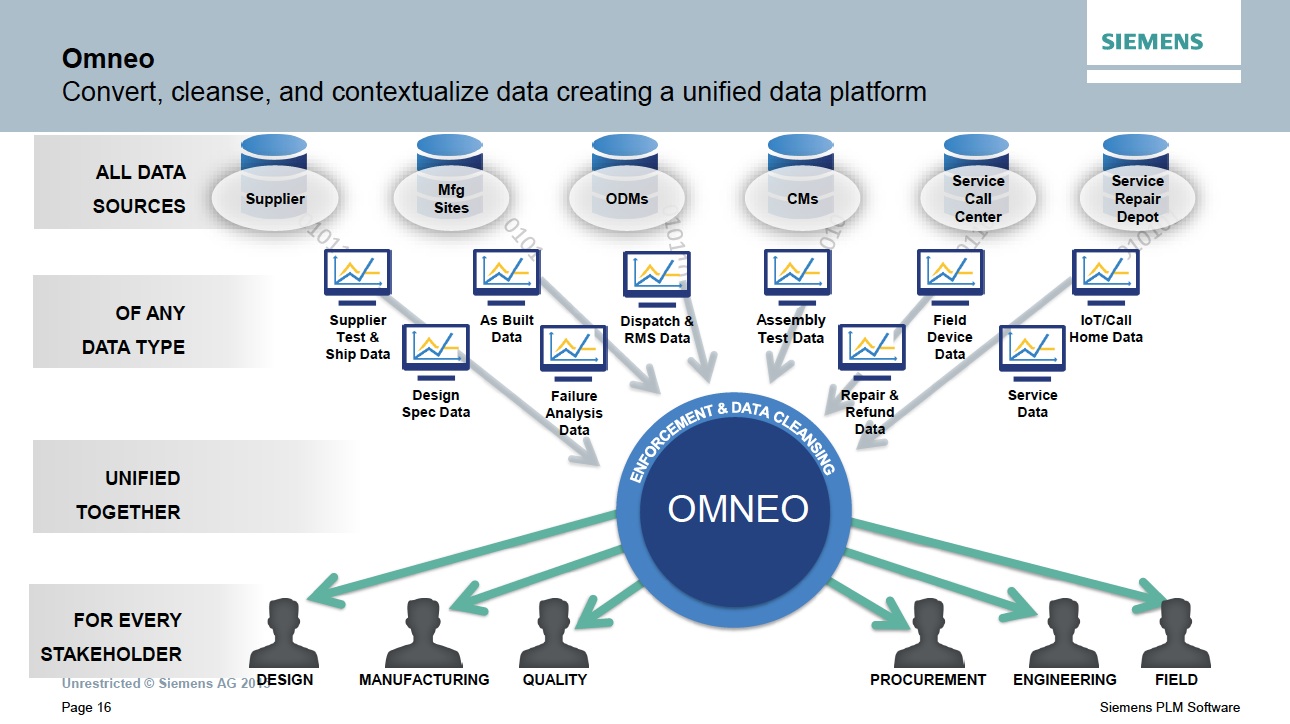 IoT
The Internet of Things (IoT) is a hot topic, and research shows that manufacturing is one of the key industries that will take advantage of it. Siemens PLM views IoT opportunities more along the lines of the "Industrial Internet" than consumer-oriented IoT. They view IoT as a way to enable self-aware, self-optimizing products and to drastically improve the service lifecycle. One of the key ways Siemens PLM will support customers looking to leverage IoT is by helping them create these smart products using systems-driven product development. In addition, they aim to add extra value in the same way as with Big Data, by leveraging the information in intelligent product models to gain more valuable insights. This could, for example, help determine if a product is running in spec or not. If not, the customers can compare IoT data with expectations to determine why. It could be a problem with equipment, which is a service opportunity, or with the simulation of the digital model, which provides them with the opportunity to refine the model and simulation to better predict actual behavior. Siemens PLM is being very pragmatic about IoT, this is an area to watch with them.
One final note that separates them from at least one of their competitors is that Siemens PLM does not appear to be interested in investing in the "IoT stack" – the infrastructure on which the products communicate. Instead they will likely leave that to others in the communications and cloud infrastructure businesses.
Supporting New Manufacturing Methods and Materials
I would like to end with one last thing. When I say to expect "more of the same" from Siemens PLM I don't mean that they are stagnant. "More of the same" does not equal "the same." Why? The engineering and manufacturing industry is evolving very quickly. Manufacturers are using new materials like advanced composites, adopting higher levels of production automation, and implementing new production methods including 3D printing / additive manufacturing. A lot of design innovation is coming from materials, and in many cases the material performance is significantly impacted by production processes. This makes intelligent models that include production information even more valuable. These industry shifts change the way companies design, simulate, and produce their products. Siemens is investing to make sure they change the supporting CAD, CAE, CAM tools as well. For example, they shared a new partnership with DMG MORI to help address hybrid manufacturing.
Supporting existing customers in their product innovation and engineering requires continual investment and innovation in their software suite. Siemens PLM appears to be very willing and able to continue to invest in improving existing disciplines and allowing their customers to take advantage of new opportunities in the manufacturing industry.
Wrapping it Up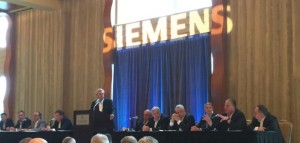 Siemens PLM continues to deliver on their promises in a steady, deliberate, and predictable way. They're innovating and doing some really exciting things including Catchbook, Omneo, and more. But what really sets Siemens apart, from my perspective, is their continued dedication to offering practical extensions to help their customers use their tools better, use their tools to adapt to new manufacturing paradigms, and find new value by leveraging emerging technologies like IoT and Big Data. If I were a CIO or VP of Engineering, that is a kind of "boring" that I would really appreciate.
That's what we're hearing, let us know what you think!
RELATED POSTS
See other posts in our on PLM Strategies of the Major PLM Vendors 2015+ series:
Dassault Systèmes PLM Vision 2015+
Synergis Software PLM Vision 2015+
See more in our Strategic Visions of the Major PLM Vendors 2014+ series including:
Oracle's Vision for Agile 2014+
Also, don't miss our The Strategic Visions of CAD/CAE Vendors 2014+