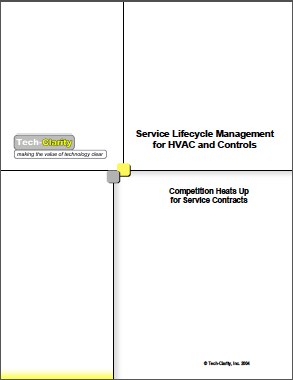 SLM for HVAC and Controls: Competition Heats up for Service Contracts discusses how convergence of the HVAC and Controls service markets has changed the rules of competition, highlighting the need for SLM to compete.
Please enjoy the summary below, or click the report or title to download the full PDF (free of charge, no registration required).
NOTE: This paper is from the Tech-Clarity archives, it was originally published in 2004 but still has relevance today.
Table of Contents
Executive Overview
When Service Markets Collide
Servicing the Facility
Service Complexity
Competition Demands Better Service
Better Service – Without Losing Sight of Cost

Never Ignore a Call for Help
Reduce Waste in the Call Center and Office
Avoid the Service Call (or at Least Reduce the Urgency)
Make the Right Calls First
Close the Call the First Time
Keep Technicians Productive, not Just Busy
Turn the Service Call into an Opportunity
Turn Service into Cash – Rapidly
Stop Revenue Leaks
Enhance the Customer Relationship
Grow Revenue by Restarting the Service Lifecycle
Turn to Proactive Management

Recommendations
Summary
About the Author
Executive Overview
The battle continues for service contracts in the HVAC and Controls markets. The rules of competition have changed for companies servicing heating, ventilation, and air conditioning (HVAC) and related control systems over the last several years. The clean separation between installing and maintaining the mechanical components of the equipment—such as air handlers and chillers—and the control systems has dissolved.
The customer now has more options for service. Mechanical contractors are competing with controls providers, controls technicians are competing with mechanical contractors, and increasingly everyone is competing with manufacturers who are beginning to capitalize on their product lines to offer service for their own equipment—and for equipment from others. The rules of competition have changed for companies servicing heating, ventilation, and air-conditioning (HVAC) and related control systems Increased competition is good for service customers, particularly for industrial customers and large chains. These larger customers can now benefit by consolidating their service spending to a smaller number of suppliers. By working with fewer suppliers, they can gain economies of scale and contract negotiating leverage. Beyond cost advantages, the customer can now expect to gain a more consolidated view of their operations and service needs by looking at service trends, spending and performance across multiple sites and types of equipment.
These market changes can also be good for service organizations that are prepared to capitalize on the change. These companies can achieve greater revenue from each customer by servicing a broader range of equipment and leveraging technician visits to perform work on multiple types of hardware. To keep up with the changes—or better yet to profit from them—means adapting to a more complex, more competitive service environment. Service organizations—whether historically focused on mechanical service or controls—need to compete with equipment manufacturers by better sharing equipment knowledge and leveraging their independent status to service multi-vendor environments.
Manufacturers need to continue to improve service organizations and processes as they transition service from an overhead operation to a profit center. All service companies need to address increased competition and complexity of the new service landscape by simultaneously providing higher levels of customer service while decreasing service costs. Service Lifecycle Management (SLM), coined by industry analyst firm AMR Research, is an approach that allows service organizations to better manage their servicerelated processes—resulting in both better service and reduced costs that are critical to profitable service in the changing HVAC and Controls industry.