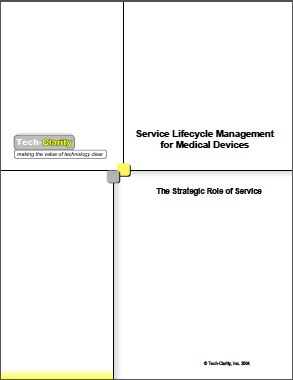 SLM for Medical Devices: The Strategic Role of Service highlights the strategic role that service plays in the medical devices industry in ensuring customer satisfaction to enable future sales, while maintaining optimal costs to protect profitability.
Please enjoy the summary below, or click the report or title to download the full PDF (free of charge, no registration required).
NOTE: This paper is from the Tech-Clarity archives, it was originally published in 2004 but still has relevance today.
Table of Contents
Executive Overview
Compliance is Critical
Enabling Compliance with Automation
Service is Strategic to Customer Satisfaction – and Future Sales
Making Best Service Practices Standard Operating Procedure
The Good and Bad of Servicing a Captive Audience
SLM Drives Superior Service at Optimal Cost

Never Ignore a Call for Help
Reduce Waste in the Call Center and Office
Avoid the Service Call (or at Least Reduce the Urgency
Make the Right Calls First
Close the Call the First Time
Keep Technicians Productive, not Just Busy
Turn the Service Call into an Opportunity
Turn Service into Cash – Rapidly
Stop Revenue Leaks
Enhance the Customer Relationship
Grow Revenue by Restarting the Service Lifecycle
Turn to Proactive Management

Summary
Recommendations
About the Author
Executive Overview
Ask an outsider about what makes servicing medical devices challenging. They will probably tell you that—beyond all of the regular challenges in servicing equipment—you probably have to face a lot of extra red tape and regulatory complications. Of course, they will have guessed right. But outsiders don't service medical devices, and managing regulatory requirements is not the whole story about servicing medical equipment.
Servicing medical devices is not the same as servicing a consumer item like a television, a computer, or an entertainment system. Manufacturers in consumer industries can sell their products and then move on to the next piece of business. This is also true for industrial equipment, although often to a lesser extent. Manufacturers in those industries can draw a hard line between manufacturing and service, or even choose to leave service to third parties that they have no relationship with. Although many of these companies are trying to capture the revenue potential available from servicing their own equipment, it is generally a decision that is based on growing the top line. Service in the medical devices industry, however, is not optional. Service is integral to the relationship with the customer and very tightly tied with the success or failure of the company. In the medical devices industry, services are strategic and manufacturers of equipment used in the medical field are held to a higher level of responsibility by their customers.
There are advantages and disadvantages of the closer relationship between medical device vendors and customers. On one hand, companies typically don't have to compete for service contracts with competitors. Because of the complexity of their products and the highly regulated environment, it is often very difficult for uninvited third parties to maintain a manufacturer's equipment. Our outsider might guess that the lack of competition for the service contract means that the cost of maintaining equipment is not an important issue. On the contrary, it means that managing the cost of servicing equipment is frequently more important to the bottom line than in other industries. This contradiction is a result of the lack of competition, and the buyers' knowledge that they don't have flexibility to shop around a service contract. To compensate, the buyers may negotiate the service costs well in advance, often as a part of the equipment purchase. In these cases, service revenue is fixed. Therefore, services profitability can only be impacted by attacking the other side of the profitability equation— cost. Service Lifecycle Management (SLM), coined by industry analyst firm AMR Research, is an approach that allows service organizations to better manage their service-related processes. SLM results in both better service and reduced costs. For medical device companies, it is critical to take advantage of the opportunities that SLM offers to simultaneously enhance the relationship with the customer and keep service costs in control. And yes, compliance is critical to all aspects of the business and shouldn't be minimized in the least.