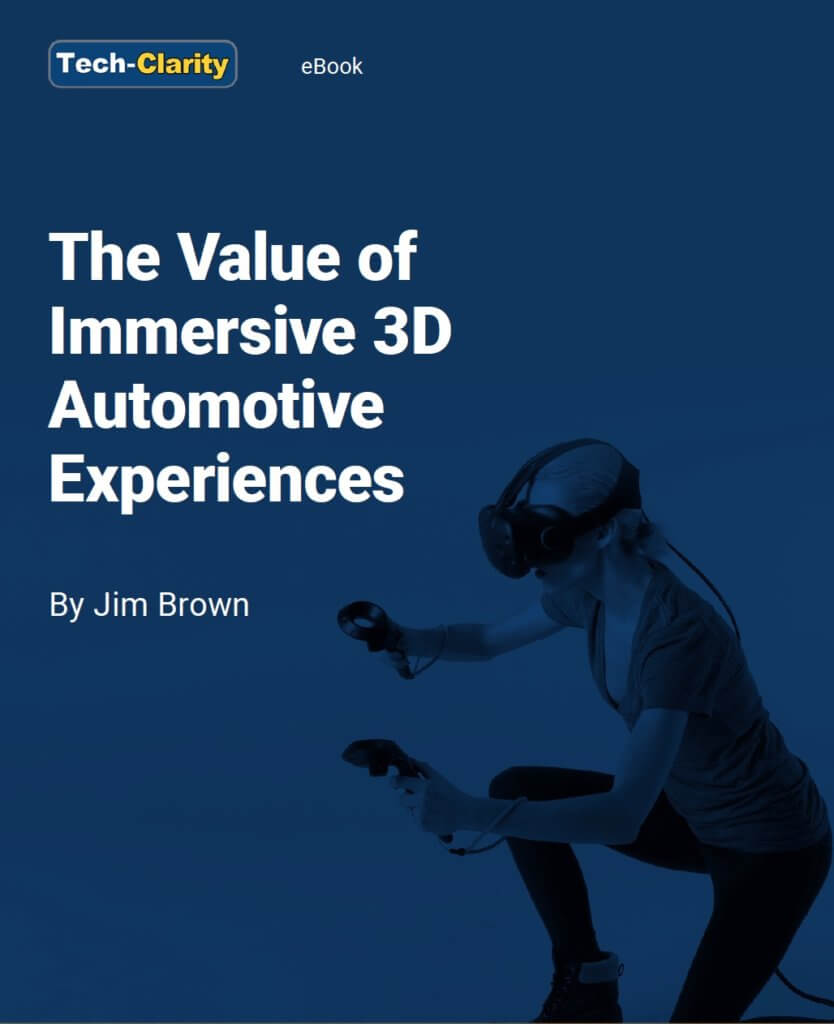 How are innovative automotive companies leveraging immersive, real-time 3D to improve innovation? How can they use highly realistic, interactive, virtual experiences to enhance design, engineering, manufacturing engineering, sales, marketing, training, and more? This eBook shares industry insights and experiences from Ford, Audi, Teague, Team One / Saatchi & Saatchi, and other manufacturers to shed light on the opportunity.
The Value of Immersive 3D Automotive Experiences eBook shares interviews with leading manufacturing, design, and marketing firms to offer insight into how auto companies can create compelling visual representations that excite buyers, inform engineers, optimize design decisions, and improve training. The research shares how companies are using tools from the gaming industry in combination with their CAD models to lower the barriers to creating these powerful, virtual capabilities. The eBook shares a variety of approaches manufacturers are adopting along with the business benefits they're achieving.
Please enjoy the summary below. For the full report, please visit our sponsor Unity (no charge, registration required).

Table of Contents
Automotive Innovators Gaining Value from Real-Time, Immersive 3D
Add Excitement and Efficiency to Marketing and Sales
Increase Insight and Iteration in Product Innovation and Design
Add Realism and Immersion to R&D and Engineering
Boost Productivity and Quality in Manufacturing Engineering
Reduce Constraints and Add Interest to Training
Unleash Innovation and Explore Additional Uses
Roadblocks and Speed Bumps Removed
The Automotive Industry Is Hitting the Accelerator
Lead, Follow the Leaders, or Fall Further Behind
About the Author
Experience Automotive Emotion in Action
A car represents a unique blend of advanced technology and consumer desires, and automotive marketing campaigns are tailored to evoke both rational and emotional responses from customers. Auto companies and advertising agencies have become highly adept at showing lifelike driving experiences. Today's customers have the opportunity to experience a car in a spectacular setting, even before a single unit has been produced.
Innovators Taking 3D Beyond the Basics
The innovators are doing even more, gaining value by sharing interactive, real-time 3D experiences across the enterprise and the supply chain. They can create buyer excitement with fully immersive configurators that customers can interactively explore in 3D. They can collaborate on interior designs in global, virtual reality design reviews to innovate and catch errors early. They can analyze the impact of manufacturing engineering decisions on perceived quality by viewing fit and finish in real-time under a variety of lighting conditions. They can even interactively experience airflow simulation results by stepping inside a virtual smoke stream. Or, they can train operators to assemble engines in augmented reality before the line is built and without expensive mockups.

Opportunities Span the Automotive Enterprise
The opportunities are extensive. This eBook examines the benefits along multiple dimensions, including the following:
Marketing and Sales
Product Innovation and Design
R&D and Engineering
Manufacturing Engineering
Training
The eBook shares valuable insights from interviews with industry leaders Ford and Teague, and highlights from a recent industry conference with speakers from Audi, EDAG, and Team One. It concludes with some valuable insights to help auto companies better understand the opportunities and enabling technologies available to help them take advantage of real-time, interactive, immersive 3D.
Real-time 3D Is Coming, Ready or Not
The value of using real-time, immersive 3D in the automotive industry is compelling. The leaders will continue to innovate and expand on their lead. More importantly, lowered barriers to entry mean more companies will be able to take advantage of real-time 3D benefits, including startups that are embracing digitalization in order to displace industry veterans. Immersive, real-time 3D is quickly becoming a critical part of the modern technical toolkit for the automotive industry. We believe the innovators will continue to push forward, while those that don't adopt immersive 3D technologies will fall further behind.
Getting Started
It's time for companies to find an opportunity or a problem and address it. Companies should start small with a proof of concept (POC) as a first step. The POC, however, should provide value and not just serve as a learning exercise. Create value, learn, and build on that knowledge with next steps. Companies can choose a project similar to the ones described here, leveraging the experience of the pioneers, or unlock the creativity of their own organization by, for example, holding a "hackathon."
The Time to Act Is Now
If your company has been waiting to get involved with real-time 3D, now is the time. The costs have dropped tremendously. The time required to build valuable solutions in 3D is much lower. Specialized development resources are now ready to go. Computing power is available onsite or via the cloud. Real-time, immersive 3D use cases have never been more in reach. Companies that adopt real-time 3D can still gain an advantage, while automotive companies can reap significant benefits in multiple dimensions of their business:
Marketing and Sales
Product Innovation and Design
R&D and Engineering
Manufacturing Engineering
Training
Autonomous Vehicle Training
VR Analytics
*This summary is an abbreviated version of the report and does not contain the full content. A link to download the full report is available above.
If you have difficulty obtaining a copy of the report, please contact us using the "Contact" link below.