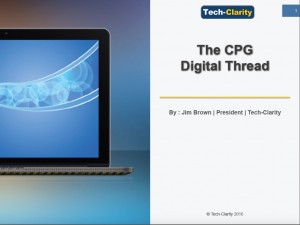 The The CPG Digital Thread ebook shares how consumer packaged goods (CPG) companies can streamline their product innovation and commercialization practices by innovating along the digital thread. It shares how companies can simultaneously enable R&D to innovate more efficiently while capturing the resulting IP as a reusable corporate asset by leveraging an integrated product innovation platform to create the digital thread.
Please enjoy the summary below, or click the report or title to download the full PDF (free of charge, no registration required) sponsored by Dassault Systemes.
Also see the Consumer Goods Technology webcast New Approaches to Improve Product Development (free of charge, no registration required), also sponsored by Dassault Systemes.
Innovate Along the Digital Thread
CPG companies have the opportunity to step up their product innovation processes and productivity to compete in crowded, competitive markets. In order to do that, they can leverage the digital thread to:
Enable individual contributors with the right tools
Integrate design tools within a product innovation platform that serves as the digital thread backbone
Keep resulting information in context from early ideas through production and commercialization
Make product information readily searchable to leverage product IP company wide
Enable easier, more social collaboration
Automate and streamline product documentation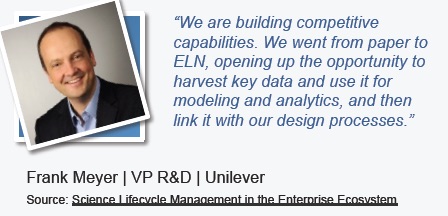 Of course this can't be done with today's disconnected tools, data, and office productivity tools like documents, presentations, and spreadsheets. As PLM for CPG, Personal Care, and Cosmetics advises, "Understand that spreadsheets and shared folders are not enough to fuel the speed and throughput requirements to remain competitive in formula-based industries." Science Lifecycle Management in the Enterprise Ecosystem goes further, explaining that "Disjointed solutions and lack of integration leads to inefficiency, inability to reuse lab results, difficulty running analytics to find trends, and  no mechanism to leverage scientific knowledge to become a 'learning organization' that leverages its scientific know-how."
Instead, the digital thread removes the burden from innovators while creating a manageable IP asset that provides value well into the future, resulting in better corporate IP, more time for innovators to innovate, fewer recalls, faster time-to-market, higher productivity, and happy consumers. The time for the digital thread to transform product innovation and delight consumers has arrived. Consumer Packaged Goods Companies that don't move toward a digital thread enabled by a product innovation platform will be at a disadvantage.