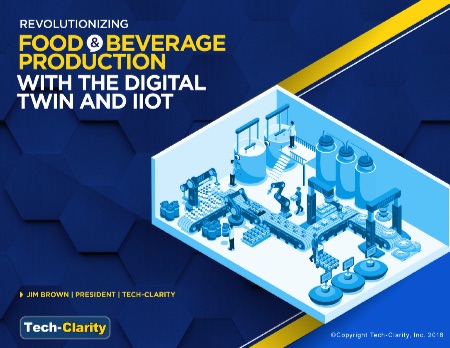 How can food and beverage companies use the digital twin and industrial IoT to dramatically improve production performance? This eBook shares the value of the digital twin and IIoT for companies that produce food and consumer packaged goods. Then, it shares some practical examples and advice to get started down the path to streamline R&D and new product development, optimize production plans, increase performance, gain production intelligence, improve quality, and compete as an integrated supply chain.
Please enjoy the eBook content below or download a PDF of the eBook here (no registration required) courtesy of our sponsor, Siemens Industry Software.
You can also learn more from Siemens about the Industrial Internet of Things on their website or view our complementary report Revolutionizing Plant Performance with the Digital Twin and Industrial IoT targeted for a broader range of industries.
The Digitalization Imperative in Food & Beverage
Competition is Heating Up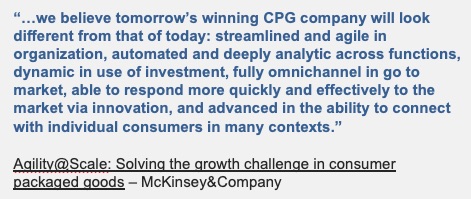 Competing in the Food & Beverage market is getting increasingly challenging. New competitors are changing the rules of the game with digital processes that allow them to drastically improve speed, agility, quality, and the ability to tailor products to customer and market needs.
In the digital age, it's no longer enough to be big. The barriers to entry have dropped as markets have transformed. Today's markets are omni-channel, allowing even the smallest startups to gain access to consumers. Buyers' preferences have also changed. They are more excited to try a new microbrew than consume the brand from their favorite, traditional mega-brewery. At the same time, customers are expecting food to meet their specific social, dietary, and regional preferences.
Competitive Disruption Puts Pressure on the Plant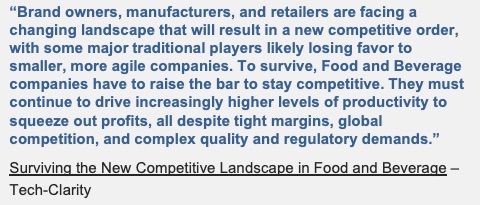 The plant has to respond to these disruptions. Production and Operations Managers need to embrace digital, Industry 4.0 capabilities including the Internet of Things (IoT), the Industrial Internet of Things (IIoT), the digital twin, the cloud, big data, and analytics. These digital capabilities can help them increase capacity, optimize asset and resource utilization, and drive productivity gains. At the same time digitalization provides them speed and flexibility to quickly ramp up production to bring product innovations to market and shift more fluidly across different plants, lines, and regions to react to consumer demand.
Leverage Digital Enablers to Compete
Digitalization is the key to Remaining Competitive
Companies are responding. A recent Tech-Clarity survey shows that more than one-half of companies say that digitalization / digital transformation initiatives are "important" if not "critical" to their business strategy. The study also finds that over 90% of manufacturers believe the IoT is likely to contribute to their business strategy, with over one-half saying the same for the Digital Twin. These initiatives, enabled by analytics, can provide significant business benefits to manufacturers. They aren't new concepts, but they are coming of age and are now within reach of manufacturers large and small.
Model and Simulate Performance with the Digital Twin
The first capability we'll discuss is the digital twin. As the name implies, it is a virtual model that represents a physical asset like a  product or plant. The digital twin is a complete model that allows companies to accurately simulate performance. It can be used to help predict and optimize product and production behavior virtually to get designs right.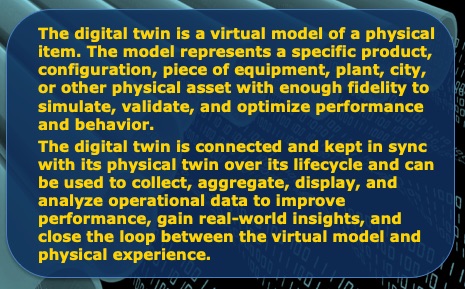 Significantly Expand Digital Twin Benefits with the IIoT
The power of the twin increases dramatically by connecting physical twins with their digital, virtual models via the IIoT. This digital association allows real-time performance monitoring and feeds the digital thread for traceability. Connecting twins allows companies to actively monitor the physical world in real-time, in the context of the product or plant, so they can identify or predict issues ranging from equipment breakdowns to product quality exceptions. It also allows companies to compare actual with expected performance to validate and improve simulations.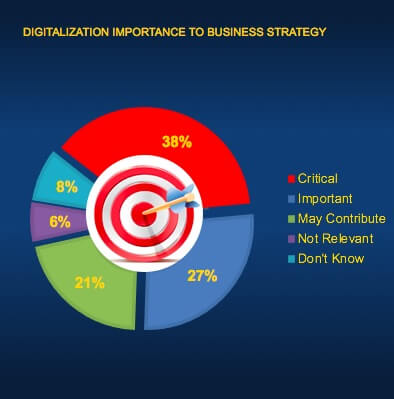 Bring External Perspectives to the Plant with IoT
The IoT expands internal information with data from outside the "four walls" of the plant. It can aggregate data from other plants, the market, retailers, suppliers, and many other sources to help make decisions in a broader context. This connectivity reduces data lag between producers and the outside world and allows them to compete as an integrated, synchronized supply chain.
Add Market and Supply Chain Intelligence with Analytics
The complete digital toolkit also includes analytical tools. These solutions help companies gain market insight and identify trends early to get more advanced notice about market shifts. This information allows plants to react in a more optimal way because time affords them more options. In addition, predictive analytics in the plant can leverage IIoT equipment data to quickly diagnose and resolve equipment or production issues before they escalate and provide data to support continuous improvement programs.
Gain Greater Benefits with Digitalization
These digital enablers are all powerful tools on their own. The benefits, however, are much greater when they are leveraged together. A completely digital enterprise has fully connected product and production digital twins that enable automated commissioning and changeovers. They use the IoT and analytics to identify and capitalize on consumer trends ahead of the competition. Finally, they leverage the IIoT to continually improve performance to gain the highest levels of productivity and quality.
Apply the Digital Twin in the Food & Beverage Industry
Leverage the Digital Twin Concept
Digital enablers are providing value across many industries. Food and beverage companies have found many creative ways to gain value from the digital twin concept. Although most food and beverage companies already have mass amounts of data, they have trouble unlocking the value from it. They are now using analytics and the digital twin to gain intelligence from the data instead of simply storing it away in historians.
Develop a Digital Twin of the Product
One powerful way to apply the digital twin in food and beverage is to develop digital product models. These digital definitions represent formulas and recipes with all of their variations and can be used to predict product characteristics like nutritional values, adherence to marketing claims, and regulatory compliance. A full model includes production requirements to allow rapid recipe transformation to shift production between plants and adapt to site-specific production equipment.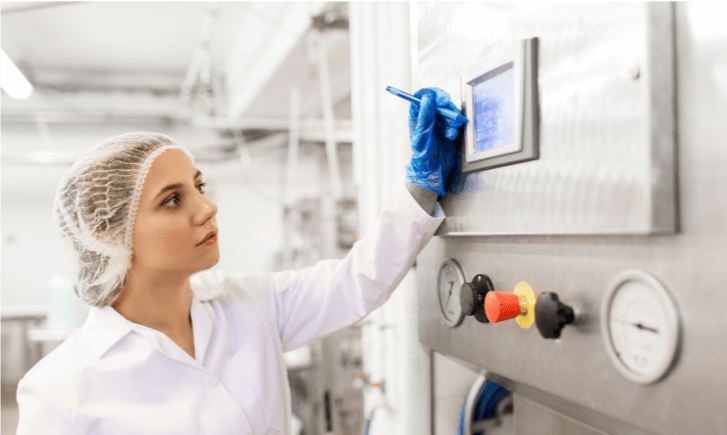 Create a Digital Twin of the Plant
Another highly valuable application of the digital twin is establishing virtual models of equipment, production lines, or plants. These models may include different levels of granularity for different purposes, from high level models for production flow to detailed machine models that can accurately simulate production performance. The models include a fully detailed representation of manufacturing capabilities so processes can be simulated, optimized, and validated virtually. The models help manufacturing engineers and planners improve production planning and plant design.
Connect the Physical and Digital Twins
Connect Digital and Physical Twins with the IIoT
Digital twins are much more valuable than static models. Modeling and simulating plant performance is not new to food and beverage companies. Production control and monitoring systems are also familiar technologies. While each are valuable, real transformative change comes from tying the digital twin together with actual physical twin performance data collected from the IIoT.
Give Meaning to IIoT Data
The value of the digital twin comes from connecting the virtual and the physical environments. This provides visibility to real-world performance data from sensors on production and packaging equipment collected via the IIoT and provides the context to interpret the information. For example, time series data is meaningless without an understanding of intended performance.
This connectivity helps companies monitor actual performance to optimize the health and condition of a piece of equipment or the plant, and gain insights into how the physical assets actually perform. It also helps companies gain perspective from the market and the supply chain.
Identify and Address Anomalies and Issues
Manufacturers can learn a lot from discrepancies between simulated performance predicted using the digital twin and actual performance measured on the physical twin. Identifying these variances can identify issues in the plant that can be diagnosed and remedied to bring performance back into plan.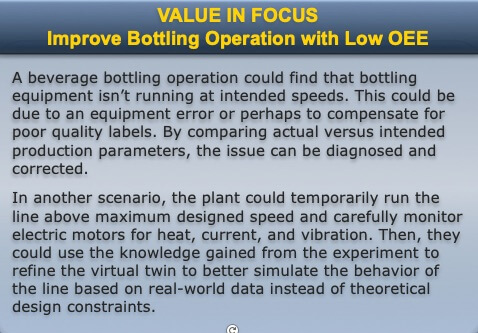 Improve Models, Plans, and Simulations by Replacing Assumptions with Facts
Connecting the physical and digital twins with the IIoT helps companies learn and continuously improve by interpreting real-world behavior. They can improve planning and optimize production based on observed behavior in the plant as opposed to calculated values. This lets planners use real-world results and scenarios to improve their simulations.
Streamline R&D and NPDI with the Digital Twin of the Product
Develop a Holistic Product Model
First, let's look at R&D and NPDI. Developing a fully digital product specification helps streamline R&D and product development. Digital R&D organizations can start with requirements and add ingredients, labels, and packaging to develop a fully digital specification. Developing the formula digitally allows downstream departments like Marketing or QA to get started in parallel and add their own information to the model.
Working in parallel enhances speed, but more importantly provides visibility so decisions impacting others are recognized and evaluated early while there is still time to change. For example, Compliance can see a change to the formulation to determine if packaging or labeling must be updated to reflect the impact on ingredient listings, nutritional facts, certifications, or claims.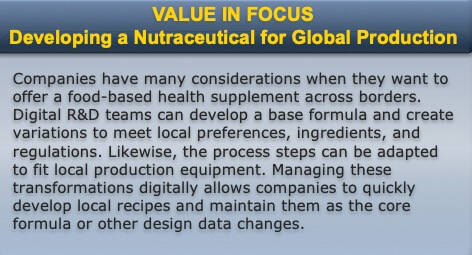 Extend Product Models to Production
Formulas can be extended with process steps and related production data to create a fully digital recipe. Digital recipes can then be transformed to meet local regulations and equipment availability. Maintaining an integrated model of materials and processes allows companies to readily adapt them to changing demands.
Optimize Plant Assets and Production Plans
Leverage Plant Models to Plan and Optimize Production
How do these models improve performance?  A digital twin of the plant lets food producers get the most out of their plant investments. Digital twins of the plant model production capabilities with enough fidelity to predict behavior and performance. For example, a beverage company could simulate sequencing, changeovers, tanks, pipes, batch sizes, filling, and packaging. They can also incorporate business factors such as seasonal or geographic variability of products and ingredients.
These twins can be used to simulate, iterate, and optimize everything from material flows to equipment. This allows planners to optimize processes digitally before committing to a production plant, changing a line, or commissioning a new product. Twins eliminate bottlenecks, avoid quality issues, reduce cost, and reduce changeover times before committing to physical assets. This get things right the first time and build in the flexibility to react more quickly to changing consumer demands.
Get More from Production Equipment with IIoT (and Analytics)
Keeping a Virtual Eye on Production Equipment
Let's explore how to apply the connected digital twin. Although food and beverage producers likely have a control system and/or a data historian that captures large volumes of data, they typically have little understanding of how equipment is performing or when it may have an issue. The IIoT lets food and beverage companies monitor the performance and health of their critical production assets in real-time so they can receive alerts and rapidly identify, diagnose, and correct issues before the problem escalates.
Gaining Equipment Intelligence
An IIoT platform with analytics goes beyond simple alerts. It allows plant personnel to connect, aggregate, filter, and analyze information from sensors and existing control systems to drastically improve uptime and performance. One proven way to gain value is moving away from preventative maintenance to a more predictive model.
For example, companies can replace scheduled preventative maintenance based on operating hours or a reactive break-fix approach by using the IIoT and analytical algorithms to identify equipment behavior that precedes a failure.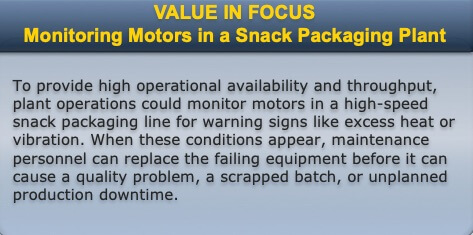 Enhance Quality and Productivity
Gaining Insight and Intelligence on Production
Beyond monitoring a piece of equipment, food and beverage companies can monitor production as a whole. For example, IIoT data can be shared in a dashboard to make key production KPIs like cycle times or yield visible so operators can quickly identify issues. The IIoT platform can detect anomalies and provide alarms so plant operators can correct issues as they occur, if not earlier.
IIoT data can also provide intelligence to help managers benchmark lines, plants, and geographies for continuous improvement. And, it can help close the loop between R&D and the plant by comparing actual versus predicted batch specifications.
Associating Production Parameters with Quality Outcomes
Combining information from production equipment with lab results can help provide insights into potential quality drifts that leads to scrap or rework. By correlating actual batch results with equipment settings, ingredients, suppliers, personnel, or environmental factors that may be impacting quality or throughput manufacturers can find and alleviate root causes.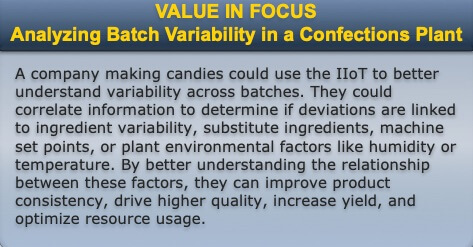 Compete as an Optimized Supply Chain
Benchmark Your Manufacturing Network
Digital twin value goes beyond the enterprise. Companies can learn a lot by comparing production across multiple facilities. Plants can share IIoT data with corporate headquarters or a center of excellence through the cloud. Analyzing product data across the network, whether it consists of their own plants or contract manufacturers, can help identify regional variances. Further analysis may uncover additional insights that can be used to identify issues or share best practices to ensure high productivity and product consistency across the globe.
Close Information Gaps in the Supply Chain
Digital companies compete as a supply chain. For example, they can work closely with ingredient suppliers on R&D or collaborate with retailers on promotional packaging. Or, suppliers can proactively share specifications for natural ingredient shipments so that formulators can begin to modify recipes based on data like actual moisture or sugar content. Digitalization allows companies to better share information to improve agility, productivity, and quality.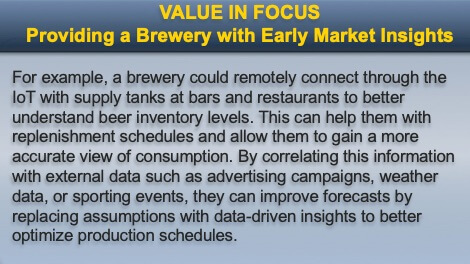 Next Steps
Getting Started
The value of the digital twin to Food and Beverage companies is significant. To get started, food and beverage companies can choose between a number of valuable initiatives that leverage the digital twin, IoT, IIoT, and analytics. For example, they can:
Apply the digital twin of the plant to optimize production planning
Simulate production on the digital twin to optimize plants in the virtual world before committing to physical assets
Monitor equipment to gain equipment intelligence and improve uptime
Use IIoT and analytics to shift from preventative to predictive maintenance
Monitor production to rapidly identify and correct quality or productivity issues
Connect with the market and the supply chain via the IoT to gain advanced insights into market trends and consumer preferences
Leverage measured results from the physical twin to improve simulations by providing the digital twin with observed production scenarios and parameters
It's Time to Act
Today's food and beverage companies need to deliver high operational efficiency in order to compete. It's time for them to adopt the digital twin and IIoT to gain important Industry 4.0 benefits – agility, productivity, quality, customer responsiveness – and remain competitive into the future.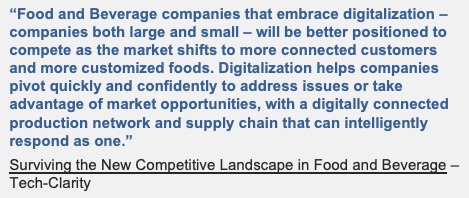 Recommendations
It's time to leverage the IIoT to connect the digital and physical twins to improve availability and production performance. The most important recommendation is to get started, learn, and grow benefits over time. Food and beverage companies can start small and expand value by building on the foundation of their first initiatives.
It's important, though, to consider needs like equipment connectivity, security, and analytics. Leveraging an integrated platform of digital solutions designed for the food and beverage industries can help. A platform approach also helps ensure that early investments are repeatable and can be used as a foundation for further value.