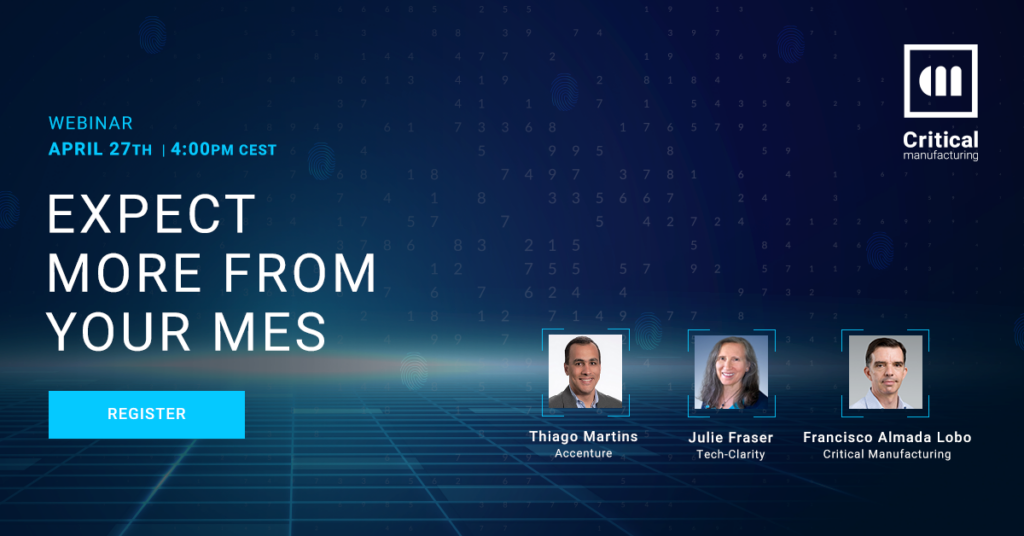 What are realistic expectations for a manufacturing execution system (MES)? Should you expect more from MES? MES has been available for decades. That is good news and bad news. Those with experience of older systems – and even many MES offered today – may have a limited view of what such a system can do. Today's MES is an enterprise system that can drive business success in many dimensions.
You will hear from Thiago Martins, Managing Director at Accenture and Francisco Alameda Lobo, CEO at Critical Manufacturing working with MES daily as Tech-Clarity's Julie Fraser talks to them about:
Pre-publication highlights of a new survey on AI for Decision-Making in Manufacturing including the use and perception of MES.
How MES can support a manufacturer in winning new customers, new contracts, and staying a preferred vendor.
How technologies such as the industrial internet of things (IIoT), artificial intelligence (AI), and digital twins can enhance MES.
What MES can offer to streamline frontline work for experienced and new employees.
What is required for MES to keep up with ever-changing products and order mix.
How integrated adaptive scheduling can improve OEE, on-time delivery, and cycle times to boost your standing as a supplier.
The role of Low-Code and DevOps technologies in enterprise rollout and ongoing MES success.
How much progress manufacturers are making on the many aspects of IT and OT data management required to use and analyze production data effectively.
We invite you to expect more from MES. View the replay of this webinar  to expand your vision of what's possible.