What does Infor have planned for PLM? Infor has a multi-pronged PLM strategy based on industry. They have strong PLM capabilities for the formulated industries and recently beefed up their offering for the discrete manufacturing world. Infor is one ERP vendor that recognizing the unique demands of PLM and takes delivering powerful solutions seriously.
This post is a part of my series on Strategic Visions of the Major PLM Vendors 2014+. Infor was included along with the major, pure-play vendors based on feedback from readers. Thanks all!
History
Where to start? Infor has a long history of consolidating and supporting enterprise solutions. Starting from the simple beginnings of the manufacturing systems business of SCT (including Adage for ERP and Fygir for supply chain planning) they have added a significant number of solutions to their portfolio over time. Ironically, my longest-running job working for a software company was with SCT and I worked closely with those products. At that time (around 2000) the biggest part of my strategy was to acquire a PLM company to complement the ERP and supply chain solutions we already had. Long story short – that didn't happen at the time and I ended up going to work for a PLM company.

That being said, the strategy was sound and Infor ended up buying Formation Systems, a leader in formulation and recipe management. The Optiva product they acquired had strong capabilities and very good customers. It was a very good fit.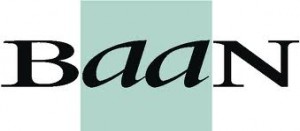 Along the way they also acquired the former Baan PLM solution to give them capabilities for discrete manufacturers. This was the portfolio for quite some time. With this portfolio I saw Infor in the formulated / process manufacturing industries but didn't hear much about them in discrete. Infor management stood behind their solution. Now, they have made an additional/alternate option available which I think will offer many of their customers what they need (see below).
NOTE: Old logos dug out of the archives for fun and historical reference only, Infor no longer uses these to my knowledge.
Infor Strategy for Process / Formulated Manufacturing
PLM requires unique features for the process industries. This is one reason the major PLM vendors haven't made as many inroads into these industries. Dassault Systemes recognized the gap and acquired Enginuity (now part of Enovia, see writeup) and later acquired Accelrys. There are many overlaps in the underlying needs, but PLM built for discrete manufacturers that engineer with parts/BOMs/CAD is just not a good fit for industries like food, beverage, chemicals, and others that do research and development (R&D) using formulas and recipes based on ingredients. In these industries the ingredients and the processing instructions are much more closely tied and specifications rule where CAD would live. These industries also have very different packaging and labeling regulations, for example Optiva has tools to help develop a packaged food's claims, ingredients lists (not as straight forward as most would guess), and nutrition labeling.
Optiva is one of the few solutions that was built with these requirements in mind. Infor acquired strong capabilities and has enhanced them over time. Some key features include:
Dynamic formula modeling with spec calculations
Formula optimization / least cost formulation
Compliance / labeling checks
Ingredients / nutritions facts calculations
Integrated packaging specifications
NPD / Stage-Gate
So what is Infor's strategy? Optiva is a very important solution because it supports their existing customers, but also allows them to sell into  the SAP installed base. Many companies with SAP PLM still find the need for a solution like Optiva. Expect Infor to continue to invest and move Optiva forward to newer, web-based architectures.
Infor Strategy for the Usual PLM Suspects (Discrete Manufacturing)
Of course the Infor customer base includes quite a few discrete manufacturing companies. This is where Infor offers Infor PLM Discrete. The discrete solution is a very capable, PDM-centric PLM system built for the basics. The solution offers CAD management, data management, and some resource management. This solution meets most of the needs of Infor's customers, but is not on the scale of the major players (see related posts below).
Infor plans to grow from a more basic PDM solution to a more fully capable PLM solution.  The Infor roadmap includes more advanced capabilities that look more like an enterprise PLM system than an engineering-centric solution. The addition of Infor's Ming.le social / collaborative technology should help here as well.
And Now for Something Completely Different – Cloud PLM from Infor!
Beyond the traditional PLM solutions, Infor and Aras recently announced an OEM relationship. This provides Infor with the capabilities provided by Aras Innovator (see related posts below for my views on Aras). The solution, Infor PLM Innovator – powered by Aras, is an interesting move. It allows Infor to rapidly deploy an enterprise-class PLM solution for discrete manufacturers in the cloud. For Infor, it significantly ups their discrete PLM offering and gives them a new, subscription-based option. For Aras, this allows them a new channel for their solution. Of course it will be interesting to see if it is deployed in a complementary way to the existing discrete solution or as a pure alternative. I expect we will see a little bit of both. The solution is in limited release and claims to offer the Infor "10x user experience," which is consistent with what I've heard from Aras in that they can provide their underlying capabilities as a platform but allow partners to provide their own, unique interface. This is probably worth some more discussion from both the Infor and Aras angles, but I don't want to hold up this post any longer (I am running out of 2014 for my 2014+ posts).
Related Posts
See other posts in our on PLM Strategies of the Major PLM Vendors 2015+ series:
Dassault Systèmes PLM Vision 2015+
Synergis Software PLM Vision 2015+
See more in our Strategic Visions of the Major PLM Vendors 2014+ series including:
Dassault Systèmes PLM Vision 2014+
Oracle's Vision for Agile 2014+
Also, don't miss our The Strategic Visions of CAD/CAE Vendors 2014+