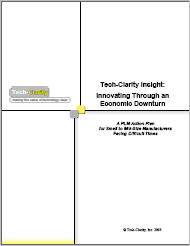 A quick peek into some Tech-Clarity research on … Innovating Through an Economic Downturn points out the importance of innovation so that smaller manufacturers can survive in the current, global economic crisis. The paper is intended to help companies develop an action plan that both recognizes the difficult reality that most manufacturers face today, and allows them to continue to invest in the future. This research complements earlier Tech-Clarity research focused on Engineering's Role in Surviving a Down Economy, focusing on the implications for small to mid-size businesses (SMB).
The Research
The research includes interviews with three manufacturers, highlighting the challenges they faced during difficult economic times and the approaches they took to live to fight another day. The research points out that small to mid-size manufacturers have to make difficult trade-offs between product innovation and cost control, but that companies that continue to invest in innovation will fare better during the economic downturn and beyond.
The research identified three strategic approaches that companies have adopted during their downturns:
Product (and Market) Innovation – Companies can't afford to stop innovating. While some companies might be tempted to go into a pure sustaining engineering mode (putting the brakes on new product development), it is important for companies to continue to move key innovations forward to be prepared when market conditions improve.
Reductive Innovation (innovation to reduce cost) – Small to mid-sized manufacturers are often caught in a pinch during economic downturns, having to offer price concessions to customers while simultaneously experiencing weaker product demand. This double-impact on their top lines means that they need to reduce cost in order to maintain profitability. Product innovation can be applied to cost reduction by reducing product or manufacturing costs. Many companies recognize that a down market is a good excuse to go back to correct over-designed or suboptimal designs that were acceptable during the good times.
Process Innovation– Perhaps one of the major improvements can come from process innovation. Many innovative ideas are product lifecycle related and impact the efficiency of developing and managing products. By improving the efficiency of product innovation and product development, smaller manufacturers can afford to spend more of their limited resources on developing winning products.
These approaches were supported by product lifecycle management (PLM) solutions, which can support each of these three strategies. PLM, in fact, often helps companies achieve these three strategic objectives simultaneously – leading to improvements in both top-line revenue and bottom-line profitability.
My Thoughts
The three manufacturers interviewed helped crystallize a key fact – companies facing difficult times must act. By turning to innovation, these companies were able to survive their difficult times. In each case, the use of PLM technology helped to enable this innovation, providing the support required to continue to innovate despite limited resources. PLM helped them to put in place better processes that helped them survive the downturn, but also left them in a stronger competitive position during their recovery. PLM is unique among enterprise applications because of the dual role it can play in increasing revenue and decreasing cost – a compelling opportunity for SMBs in troubled times.
Implications for Manufacturers
The implications are clear. Small to mid-size manufacturers need to act despite difficult economic times. Now that the economy appears to have stabalized, it is time for companies to develop a PLM and innovation strategy to set themselves up for short-term and long-term success.
This research highlighted the experiences of three ENOVIA SmarTeam customers. Look for more information on the Enovia SmarTeam solution in an upcoming "One to One" post later this week.
So that was a quick peek into some recent research on innovating to combat difficult times, I hope you found it interesting. Does the research reflect reality? Do you see it differently? Let us know what it looks like from your perspective.