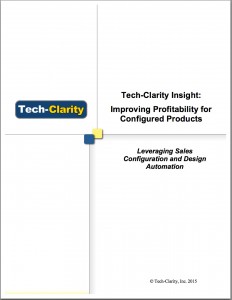 Improving Profitability for Configured Products: Leveraging Sales Configuration and Design Automation explores how companies can profitability tailor products to meet customer needs. The research investigates the experiences of several companies, revealing several key areas companies should focus on to improve their profitability.
Please enjoy the summary below, or click the report to download a PDF overview (free of charge, no registration required).
For the full report, please visit our sponsor, DriveWorks, (free of charge, no registration required).
Table of Contents
Executive Overview
Optimize Profitability
Support Guided Selling
Automate Manufacturability Checks
Streamline Sales to Manufacturing
Create More Revenue Opportunities
Enable ETO Best Practices
Ensure Quote Accuracy
Integrate to the Enterprise
Enable Web and Mobile Platforms
Keep the Implementation Simple
Conclusion
Recommendations
About the Author
Executive Overview
Manufacturers have a tough job competing in today's global environment. Global competition, price sensitivity, time to market pressures, and increasing complexity all make it very difficult for manufacturers to be successful. Competitively differentiating your business and its products is hard while facing all these pressures. In addition, customers expect more.
To capitalize on this trend, a company can set itself and its products apart by tailoring products to customer needs with a Design to Order (DTO), Configure to Order (CTO), or Engineer to Order (ETO) strategy. Among the many benefits, customization and personalization:
Offer customers exactly what they want
Create competitive differentiation
Enable a price premium
All of these factors lead to greater profitability.
For some companies, ETO is less about differentiation. Instead, it is a basic necessity in their industry. In these cases, it's not enough to set products apart through customization, because everyone does that. In these industries, you need to come close to offering customized products as effectively as others who offer standard products.
Regardless of the reasons driving "to order" manufacturing, to be successful, your company must overcome the inherent complexity. While there are a lot of benefits, complexity can introduce risk, which in turn could lead to higher costs that hurt profitability. It's important to choose the right approach.
Rob Yule, Director of Engineering at Blue Giant, a loading dock manufacturer, says, "We believe that manufacturing products locally can succeed long term. However we know we have to automate everything possible to remain competitive." A sales configurator integrated with design automation can help profitably customize products. It can improve a customer's experience, save time, and offer customers exactly what they want in an economical way. In addition to higher customer satisfaction, the business benefits include:
Higher productivity
More accurate quotes
Fewer errors
Optimized manufacturing processes
Less waste
As examples of the time savings, Pine Research Instrumentation finds that processes that used to take two to four weeks are now instantaneous and Precision Polymer Engineering (PPE) found design cycles are reduced by 35%.
The integrated solution also offers a competitive advantage. Says Paul Gimbel, Business Sherpa at Razorleaf, "A sales configurator integrated with design automation gives a company the capability to offer customized products at standard product prices, while the competition is limited to their catalog items."
This paper explores how to manage the inherent complexities of "to-order" products. It identifies best practices to profitably customize products and shares the business benefits enjoyed by companies who have implemented them.