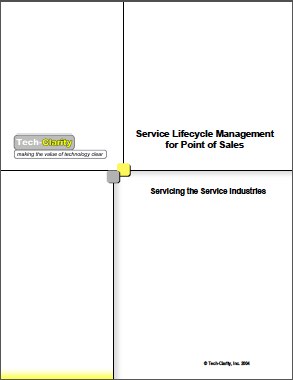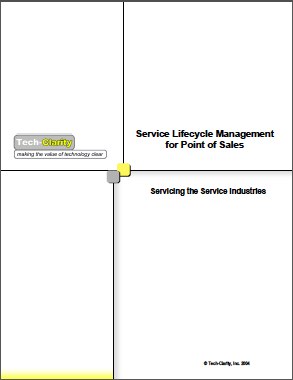 SLM for Point of Sales: Servicing the Service Industry reviews the need for strong support processes when servicing equipment for retail and hospitality companies, both to satisfy the customer and to generate profits.
Please enjoy the summary below, or click the report or title to download the full PDF (free of charge, no registration required).
NOTE: This paper is from the Tech-Clarity archives, it was originally published in 2004 but still has relevance today.
Table of Contents
Introduction
Impact of Point of Sales Downtime
Customer Service is Your Customer's Business – Make it Yours
Profiting from Point of Sales System Service
Profitability and Good Service Rely on Good Information
SLM Drives Superior Service at Optimal Cost

Never Ignore a Call for Help
Reduce Waste in the Call Center and Office
Avoid the Service Call (or at Least Reduce the Urgency)
Make the Right Calls First
Close the Call the First Time
Keep Technicians Productive, not Just Busy
Turn the Service Call into an Opportunity
Turn Service into Cash – Rapidly
Stop Revenue Leaks
Enhance the Customer Relationship
Grow Revenue by Restarting the Service Lifecycle
Turn to Proactive Management

Recommendations
Summary
About the Author
Introduction
A call comes into the call center. The early rush is over, and a key point of sales device at one of your customer's sites went down during peak time. The manager asked his team to work around the problem until things settled down, but now he wants your team to service the equipment and get it back up and running before the next busy period. Your company may only have a few precious hours to get to the customer, diagnose the problem, correct it and be out of the way when activity start to pick up again. Providing service to the service industries—whether it is a retail shop like a drug store, auto parts store, grocer, or big-box retailer or a hospitality company like a restaurant, hotel or even a sports arena—requires top-notch customer service. When Point of Sales (POS) equipment goes down, it impacts the ability for your customer to provide service to their customers. Customer service is critical to the retail and hospitality industries, and therefore the service that keeps the POS equipment running is critical as well. Servicing these industries, however, is not an easy task. Service is required at all hours of the day or night, and point of sales activity can't be delayed until the system comes back up. The customers are coming whether the equipment is working or not.
Retailers rely on technology today, however, for more than providing customer service. Retailers now frequently rely on automation for control and accounting purposes. With the increasing use of POS data to drive inventory replenishment and programs like scan based trading, accurate sales data has become much more important. The manual systems of previous generations have been replaced with modern technology that keeps operations running smoothly. Today, retailers with systems problems may be more than inconvenienced—they may be out of control. Strong support processes are critical to maintaining good customer relationships when equipment problems occur.
Maintaining equipment for retailers and hospitality companies requires sharp focus on customer service, but doing so profitably also requires a high level of control within the service organization itself. Costs must be kept in check, and the service company must be able to prove that they are providing good service to renew contracts. In addition, most companies are trying to improve margins by providing more value-added services in addition to simple break/fix support. Not surprisingly, technology plays a role in this as well. Service Lifecycle Management (SLM), coined by industry analyst firm AMR Research, is an approach that allows service organizations to better manage their service related processes. SLM results in both better service delivery and reduced costs. This paper provides insight gained from recent conversations with some leading service companies to discover how SLM principles are being used to provide world-class customer service to the retail and hospitality industries, while simultaneously reducing costs to improve profitability.