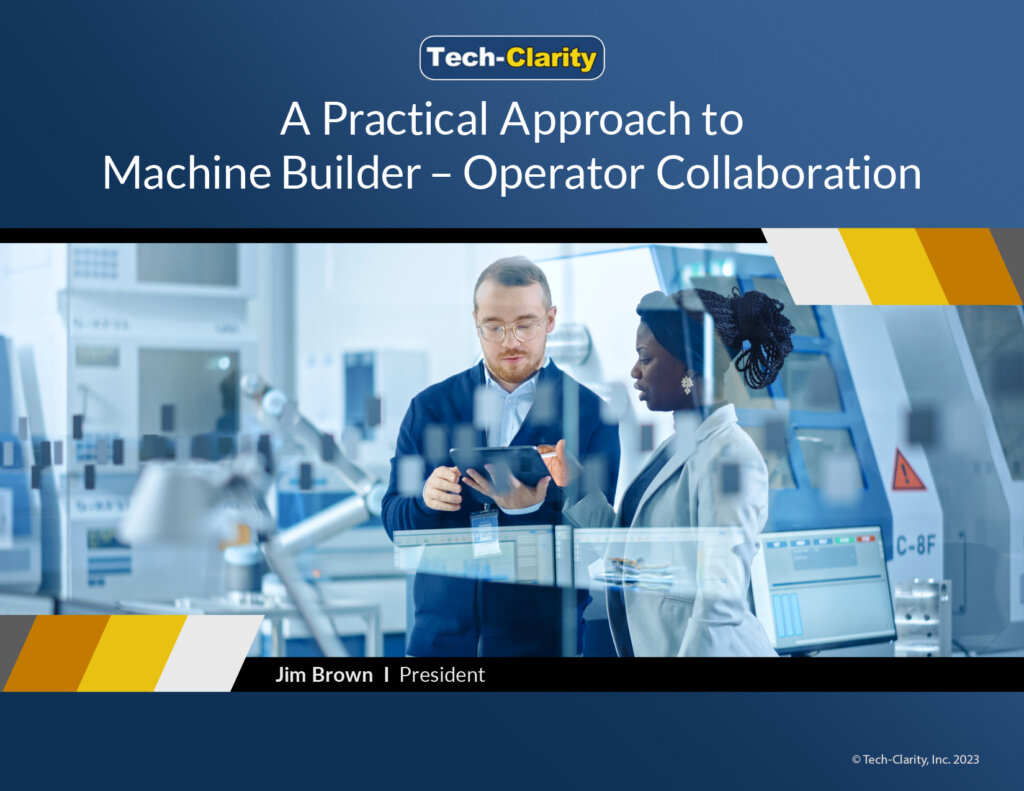 How can machine builders improve the way they work with the companies that use their products to create more collaborative, mutually valuable relationships? This eBook explores five practical steps manufacturers can take to improve machine builder – operator collaboration and increase value for both themselves and the customers operating their machines.
Please enjoy the summary below and visit our sponsor Siemens to learn more about digital manufacturing solutions machine builders. You can also download the full eBook to learn more.
For related research, please read prior eBooks, The Machine Builder Digital Twin, Increasing Equipment Design Velocity, and Increasing Performance Engineering Performance.
Table of Contents
Recognize the Opportunity
The Value of Machine Builder – Operator Collaboration
Take a Practical Approach with Room to Grow
1. Improve Equipment Data
2. Improve Service Response
3. Connect and Communicate
4. Increase Predictive Capabilities
Get Started
Acknowledgments
Has the Time for Servitization Finally Arrived?
The Service Relationship is Changing
The relationship between machine builders, their products, and their customers is evolving. Many machine builders who traditionally followed "sell it and forget it" or "service it because you have to" models are moving to more closely aligned service relationships. Why? Manufacturers recognize they have a strategic opportunity to drive higher revenue and better profit margins by transforming their service approach. And in some cases, their customers demand it because they need to get the most out of increasingly complex machines to drive their own productivity and profitability.
Time for a Practical Approach
This shift is not new. Service transformation, sometimes called "servitization," has been discussed for well over a decade. We wrote about the trend in The Service Lifecycle Management Approach as far back as 2003. Since then, some companies and industries have made progress. The concept is well defined, and the enabling technology has come a long way. 
But few machine OEMs have been able to fully embrace the model, and reaching the highest level of service maturity still faces people, process, and technology challenges. Fortunately, it's not an "all or nothing" proposition. Machine builders have plenty of room to improve. And, even if they never reach the ultimate goal, there is value along the way. 
Recognize the Opportunity
Improving Service Benefits OEMs and Operators
Improving service performance is a win-win. It brings machine builders new revenue, higher margins, better customer relationships, and a steadier income stream. In addition, transformation can provide strategic value by creating machine performance knowledge to improve engineering. It can also support significant business transformation, opening up the potential for new business models like "Product as a Service" (PaaS) or "Machines as a Service" (MaaS), where the machine builder takes on responsibility for delivering productivity instead of hardware. Finally, it can improve sustainability by optimizing energy use and supporting circular economics where machines could be resold, remanufactured, or harvested for valuable components and materials instead of scrapped.
Transformation also helps customers better operate and maintain increasingly complex equipment. In turn, it allows them to increase uptime, plan for downtime, raise productivity, optimize performance, improve efficiency, reduce cost, and cut power consumption. 
The Potential for Transformation is Proven
The value of improving service through tighter relationships and digital transformation is well documented. There are practical examples to follow. Other industries, including aerospace, have paved the way, proven the value, and developed best practices. There are experienced consultancies that know how to transform to servitization. Supporting technologies, including the Industrial Internet of Things (IIoT), analytics, Enterprise Asset Management (EAM), and Service Lifecycle Management (SLM), are more mature and accessible.
The Potential for Transformation is Proven
It's hard to argue with the value, but it's a significant change. Technology has advanced faster than companies can adapt. Collaboration requires a level of trust and accountability between partners. Some operators may not want their data connected to the internet or consider their operational data and processes part of their intellectual property and be reluctant to share it. Making the transition can also be a financial hurdle. Shifting how and when manufacturers record revenue is a major change, especially for those producing expensive machinery.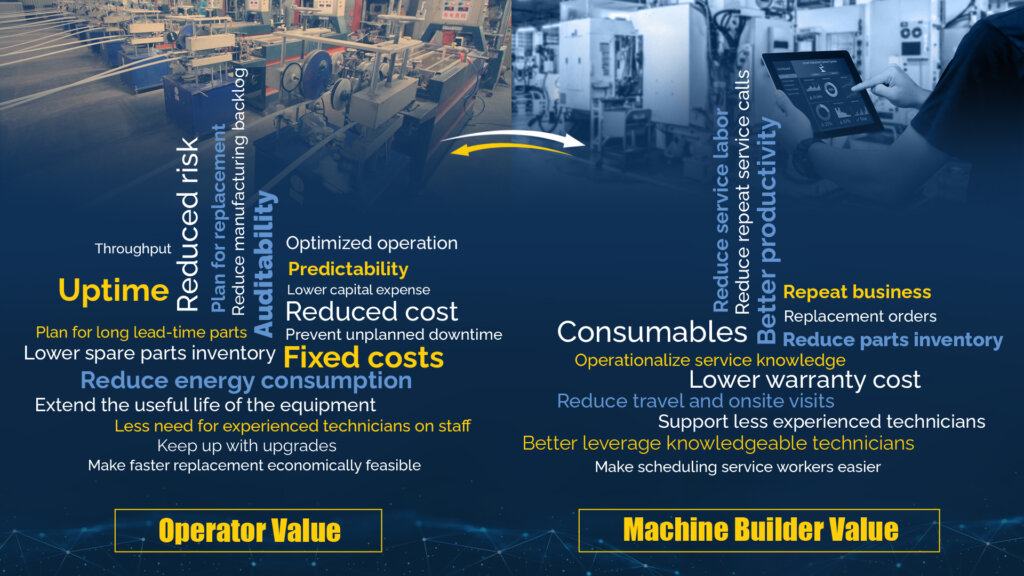 Take a Practical Approach with Room to Grow
Innovate, Experiment, Learn, and Improve
Although the vision is more attainable, it may not be easy for every company to achieve. What can machine builders do now to start down the path toward value? We recommend that they understand the big picture but start small. But starting small doesn't mean the project has to be limited to a proof of concept. There are practical ways to create value now and make progress toward the future state as they gain experience improving service in a digital model. Machine builders can take tangible steps toward greater maturity by:
Improving collaboration with their customers

Learning from the experience

Repeating what works

Extending their success

Expanding to new areas
Create a Value-Driven Strategy
It's essential to develop a practical plan, however, before spending a lot of time and energy on the project. Incremental adoption and improvement are not substitutes for strategy. The most important step is working with customers to research potential improvements and how they add value for both the machine builder and the operator. It's important to look for the win-win, communicate it with the customer to get alignment, and then get started. Do the research to target improvements that will make a difference and be worth building on.
For example: 
What challenges do your customers face while operating your equipment?

What would they value if you could change the situation?

What would "change the game" for them?

What are they willing to pay for it so that you can share in that value?
Get Started
Start Small, Then Expand
Although few machine builders have reached the highest level of digital transformation maturity, it's essential to get started. These techniques are becoming more prevalent and achievable. It's time to collaborate on a small but meaningful project that solves a real problem. This project should provide benefits for both the machine builder and the operator. 
Choose a product line or focused use case and take an agile approach that gains value with a "minimum viable product" approach. Keep it simple so you, and your partner, can learn and extend based on experience. 
Manage Change
Lastly, remember to manage the change. Educating management, personnel, and customers about the change and why it is valuable to them is critical. Next, develop a plan that addresses both business and technical requirements, and engage with engineers, operators, and service technicians to learn from their knowledge. Then, get started to create an advantage on your timeline before being forced to react to competitive threats.  
If you have difficulty obtaining a copy of the report, please contact us.